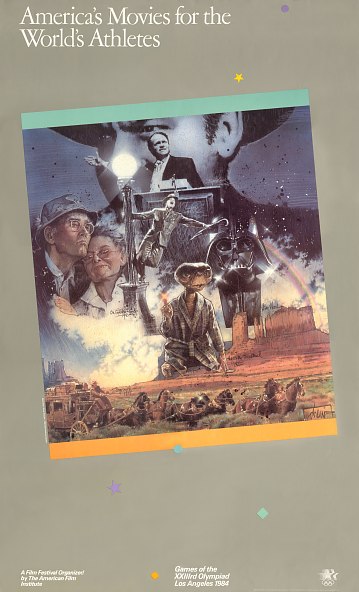 America's Movies for the World's Athletes
1984
Click here for a bigger image.
The Olympic piece was done in '84 for the Olympics in Los Angeles. It was conceived for the largest film festival of American films ever held. Three especially constructed theatres were put at the three Olympic Villages where the athletes stayed while competing. For their entertainment, movies were run 24 hours a day during the games. Only the athletes were permitted to take advantage of this. It was for them that the first time Star Wars in it's three episodes were shown back to back and it was the first time E.T. had been seen since it's original release.
The poster was done with the co-operation of the American Film Institute and with Steven Spielberg. The painting was done to advertise the festival to the athletes and copies were especially printed to give as presents to the athletes. As all the major movie studios were involved in the festival you'll note that all of them are represented on the poster. There's a first. All competing studios co-operated and are represented on the painting. 'Singing In the Rain' is from MGM, 'Star Wars' is from 20th Century Fox, 'E.T.' and 'On Golden Pond' are from Universal, 'Citizen Kane' is from RKO and Stagecoach is for United Artists.
Drew was honored through the whole thing. He worked directly with Spielberg and Firstenberg from the AFI, he visited the Olympic Villages to autograph posters for the athletes and even received a special Olympic medal for the gift of his art. Drew also has a poster that the athletes signed for him which is covered completely with their autographs. He also has one which when they were signing posters for each other, Steven signed where he wrote " to my Favorite movie artist, E.T. sends his love. Steven Spielberg"