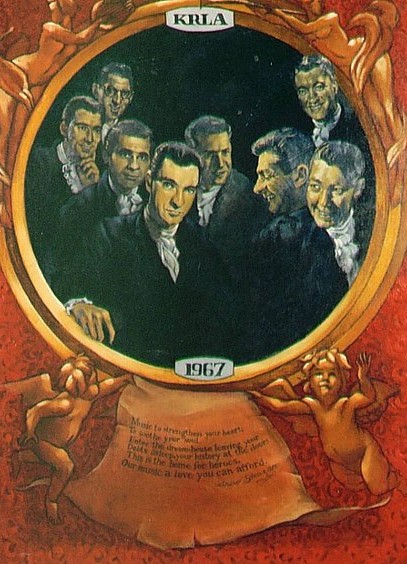 KRLA Valentine's Card
1967

During KRLA's peak, every Valentine's Day, listeners were encouraged to send in their amateur art work as "Valentines" for the station's annual "Valentine's Day" contest.
This was a painting submitted to KRLA in February of 1967, painted by a then-amateur artist named "Drew Struzan", which featured the late 1966 lineup of KRLA "Eleven-Ten Men" right before Rebel Foster rejoined KRLA.
(Foster is NOT in the picture, BUT was back on the KRLA lineup by February 14, 1967.)
This painting was the first place winner in the station's 1967 contest, and for many years hung in the production studio of KRLA. It now hangs in the home of one of the air talents in the painting.
It was used as the front cover of the KRLA history book 1989, and as the back cover of the revised and updated edition of that history book in 1991.
And so, here's the FULL COLOR painting of the 1967 KRLA Valentine's Contest first place winner.
Here's the text underneath:

Music to strengthen your heart,
to sooth your soul.
Enter the dream-house leaving your depts asleep,
your history at the door. This is the home of heroes.
Our music a love you can afford.
DREW STRUZAN